Freshkills Park Outreach
2008-2012. Part of the work I set out for myself on the NYC Department of Parks & Recreation's Freshkills Park development team was to develop and design a range of outreach materials performing a variety of functions: explaining the history and infrastructure of the Freshkills Park site, the regulations and process governing it and the park development projects underway within it; and helping the public re-imagine a site that had been so identified with waste and environmental neglect as a refuge and space for recreation, regeneration and environmental stewardship.
Tags: Strategy, Graphic Design, Illustration, Writing, Web, Mobile, Programs, Community, Urban Planning
Fresh Perspectives Newsletter. I served as primary editor and designer of every issue in addition to writing a large share of the content, producing illustrations and taking a number of the photos.
Freshkills Park Blog. I created, designed, wrote and edited the Freshkills Park Blog, updating content several times per week. Since the park is a limited-access, long-term development in a remote corner of New York City, it was important to offset by maintaining an active and frequent presence in the minds of its existing and potential advocates; the blog was part of the resulting strategy. It served as a hub for stories related to all of the intellectually interesting aspects of the park: landfills, recycling, landscape architecture, New York City development and history, art, renewable energy and more, in addition to any news and media relating to park development and programming. In conjunction with a lecture series I ran on related topics, the blog was one of the only ways for the general public to easily engage with—and virtually gain access to—the park on a regular basis. The site came to average approximately 2000 unique views per day.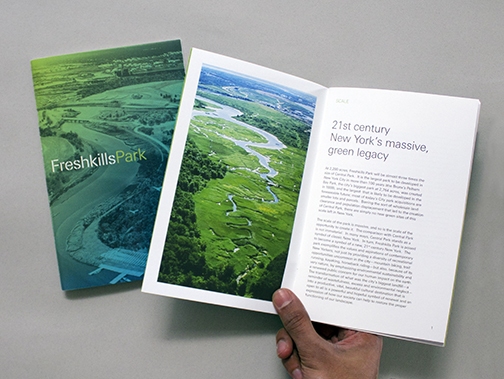 Information Booklet. I wrote and designed a press kit for the Freshkills Park project at the New York City Department of Parks & Recreation and then adapted it into thisinformation booklet that could be distributed as a standalone, shelf-ready item to potential partners and funders.
Outreach Brochure. I wrote all content and designed these brochures.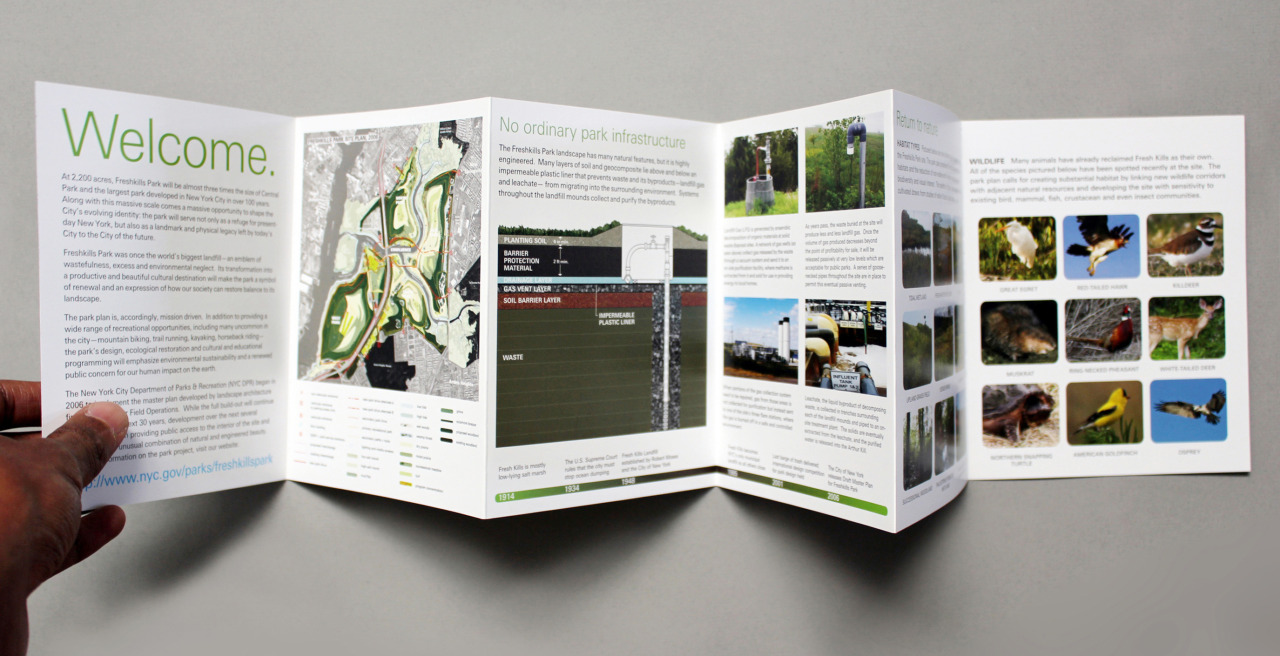 Site Tour Guide. Our outreach team found it was handing out numerous information sheets and brochures on public site tours. I wrote and designed a Site Tour Guide that compressed the many commonly asked questions and requested pieces of information into one document. The Guide was designed to fold accordion-style to allow the most information to be communicated on a single-page document, while remaining small enough to fit in a coat pocket (5" x 6.25").