Meerkat Media Restructure
2015-2016. Meerkat Media Collective is an artistic community committed to sharing resources and skills to incubate individual and shared media-based work. I joined the collective in 2014, in time for a creative retreat when a variety of commitments were redoubled to the work of running the collective—holding regular administrative and creative gatherings, pursuing educational initiatives and advancing new collective projects. But that work faltered over the next year, as, I learned, it had done several times before. The collective had resources—video production equipment, computers, money, talent, ideas—but its operation had become cumbersome, especially for members who were only peripherally involved but still wanted to be included, and administration had come to outcompete the cultivation of new work. What was more, the group of mostly white, straight filmmakers in their 20s and 30s began to see its homogeneity as a liability it didn't know how to address. Almost no one was happy with the way the collective was operating.
These issues were brought to the fore especially during a facilitated anti-oppression workshop, and followed up through regular meetings and aconflict mediation meeting I helped to facilitate. A small Membership working group begin working out a new structure for the collective based on these group conversations and feedback about what was and wasn't working.
In this small group, I helped reframe the terms of membership, establishing a circle of intensive members who benefit the most from the collectives resources but also do all the work of its weekly operation, as well as a circle of members at large who are invited to screenings and events as well as maintaining an active, non-administrative listserv.
To reduce the drag on decision-making that was observed to be caused by requiring long, monthly meetings and consensus-based votes, we framed the collective's first budget and allocated each of ten working groups an operating budget, with the mandate to meet monthly as a small group—even talking online—and to report back at larger meetings that were now quarterly.
Reframing intensive membership as a residency allowed us to have members commit intensively in time increments, to be less overwhelming. It also allowed us to open the application process publicly to new members for the first time ever. With the working group, I framed out an application and a process for applicant review and on-boarding.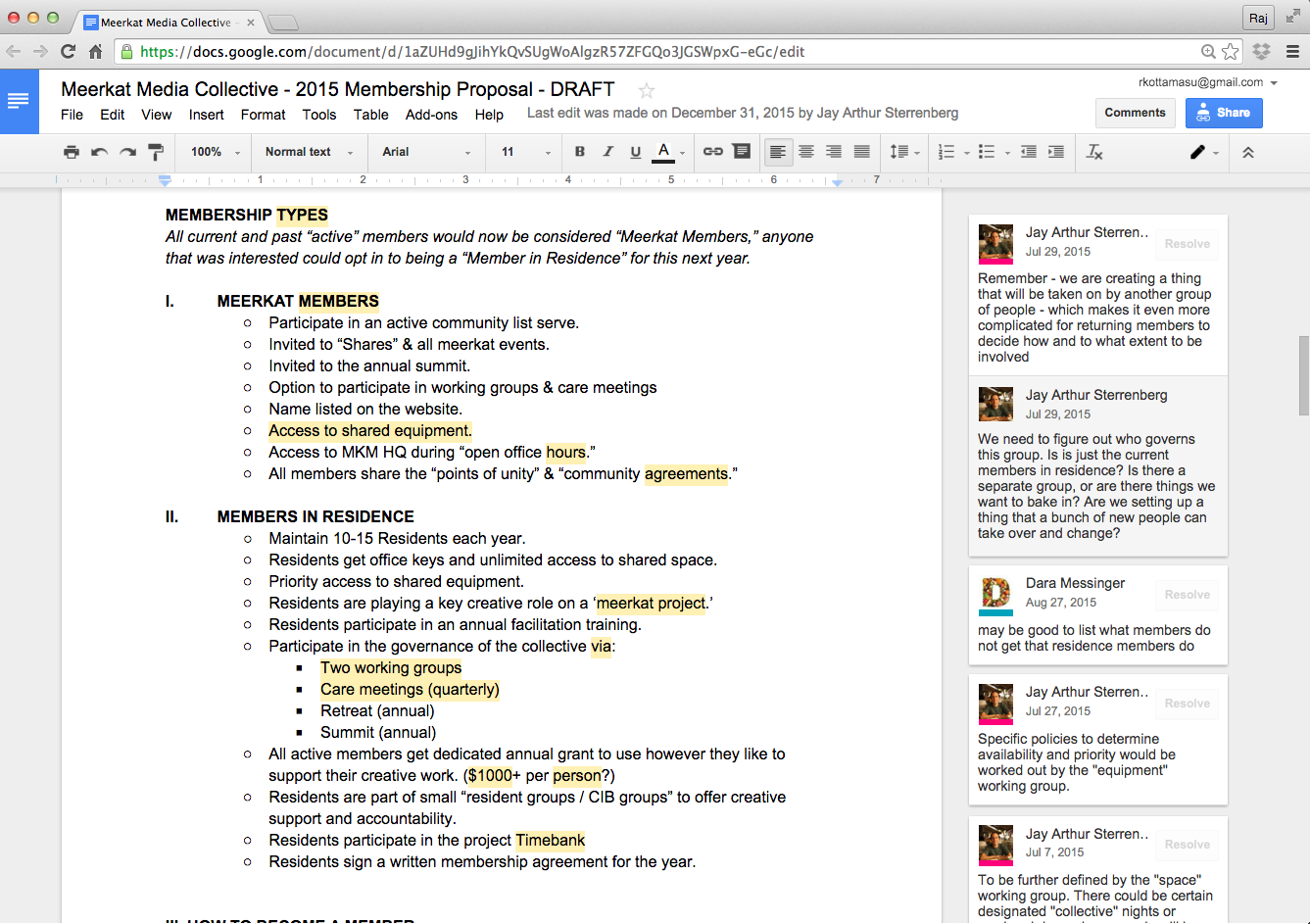 The inaugural residency application.