Freshkills Park Programs and Outreach
2008-2012. Part of my work on the NYC Department of Parks & Recreation's Freshkills Park development team was to develop a set of programs to make more legible, concrete and inspiring the massive new park site for new and potential users. I conceived and collaborated to stage art performances, tours, lectures, field trips, an annual park preview day, and a mobile app all focused on on this goal.
To complement these programs, I developed and designed a range of print and digital materials clearly explaining the history and infrastructure of the Freshkills Park site, the regulations and process governing it and the park development projects underway within it. Anchored by a set of visual identity guidelines produced by consultant Project Projects, I produced a range of materials to suit different contexts and points of engagement. I served as primary writer, editor and designer of these materials and products.
Tags: Strategy, Graphic Design, Illustration, Writing, Web, Mobile, Programs, Community, Urban Planning
Programs
Sneak Peak at Freshkills Park, 2010 and 2011: An annual event I conceived and co-directed, conceptualized as a park preview event to allow the public to experience and be inspired by a 233-acre sector of the 2,200-acre site as parkland for the day, with many of the normal limitations on access and activity suspended. A number of programming and funding partnerships were forged with local organizations and businesses. Attractions included kayaking and canoeing in the site's creeks, biking its trails, walking tours, public art installations, kite making and flying, food vendors, craft markets, live music, information fairs, composting and craft workshops, birdhouse building, pony rides, e-waste recycling and more. Most of these were first-ever activities in the history of the site. The event was a huge success and has become an annual tradition and a cornerstone of fundraising and constituency building for the park project.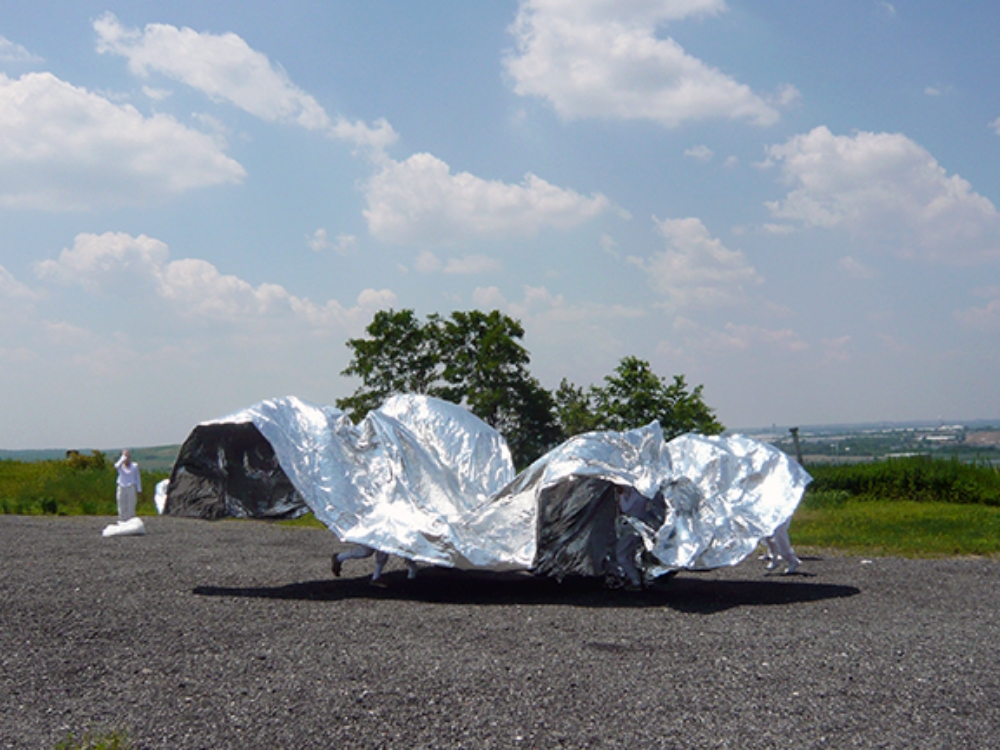 PARK. A performance developed by choreographer Kathy Westwater and her collaborators, me among them, over the course of several intensive site visits and performed on-site.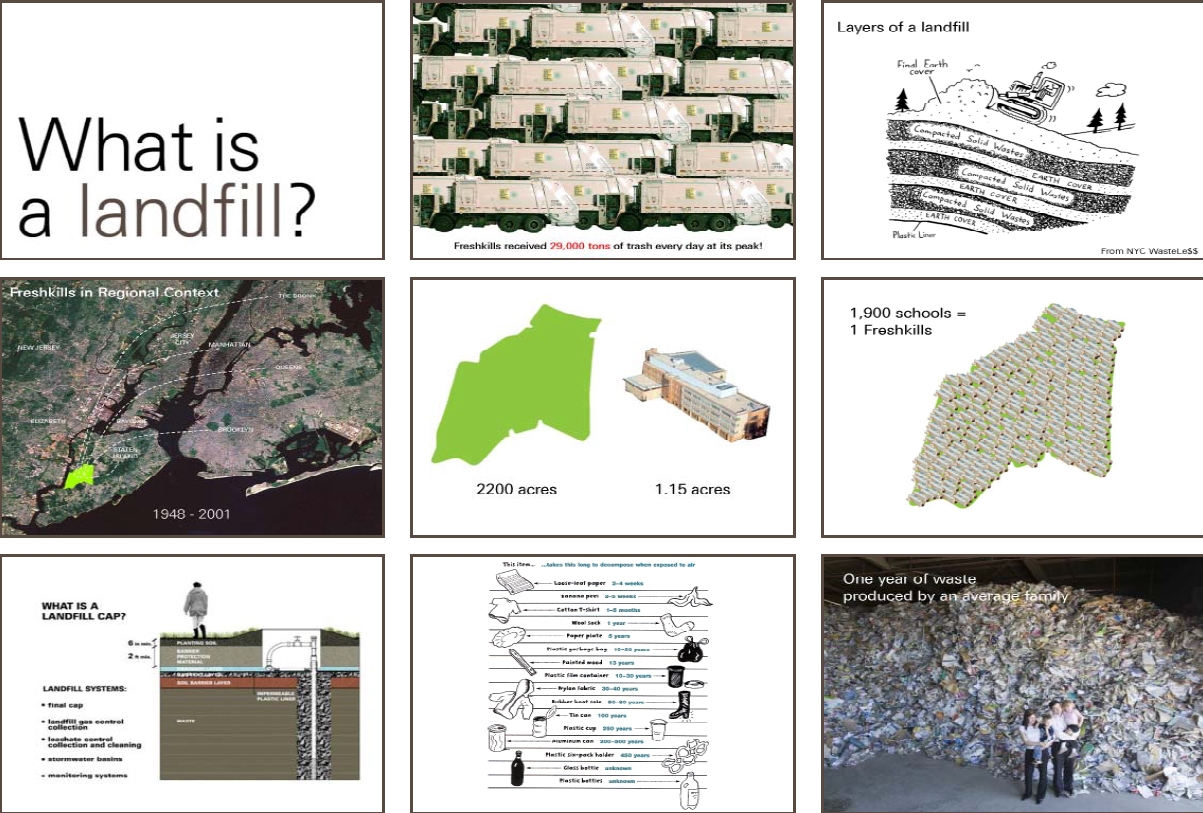 Educational Presentations. I developed a variety of educational presentations aimed at student groups from elementary school through college.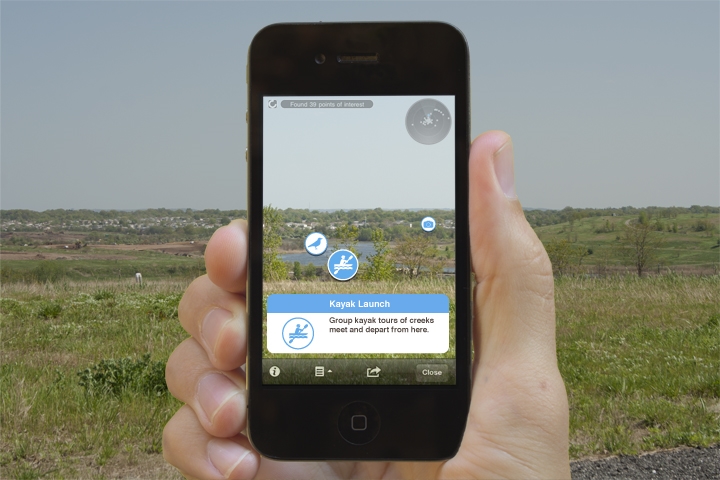 Freshkills Park+. A smartphone-based augmented-reality app constructed using the Layar browser. Users were able to view the landscape through their phone and receive relevant information, audio, video, links and downloads in real time. A collaboration with Carlos J. Gomez de Llarena of media architecture studio Med44.
Outreach
Freshkills Park Blog. I created, designed, wrote and edited the blog. Since the park is a limited-access, long-term development in a remote corner of New York City, it was important to offset by maintaining an active and frequent presence in the minds of its existing and potential advocates; the blog was part of the resulting strategy. It served as a hub for stories related to all of the intellectually interesting aspects of the park: landfills, recycling, landscape architecture, New York City development and history, art, renewable energy and more, in addition to any news and media relating to park development and programming. In conjunction with a lecture series I ran on related topics, the blog was one of the only ways for the general public to easily engage with—and virtually gain access to—the park on a regular basis.
Fresh Perspectives Newsletter. I served as primary editor and designer of every issue in addition to writing a large share of the content, producing illustrations and taking a number of the photos. PDF archives are available here.
Native Meadow Mix Seed Packets. Packets of native meadow seed that I conceived and co-developed as a giveaway to site visitors. As park development at the site is slow and long-term, the seed packets were conceptualized as a way to have something tangible, personal and positive for constituents to take home and engage with in relation to the in the near term. Another intention was to shift the site's implicit identity from connotations of waste and environmental degradation to those of ecological restoration, sustainability and growth. Native, local species provided will be used in meadow restoration at the site as well used to cultivate even more seed at an on-site farm for further restoration efforts: planting these seeds at home, in gardens and pots, offer a preview of the park to come.
Site Tour Guide. Our outreach team found it was handing out numerous information sheets and brochures on public site tours of the Freshkills Park site. I wrote and designed a Site Tour Guide that compressed the many commonly asked questions and requested pieces of information into one document. The Guide was designed to fold accordion-style to allow the most information to be communicated on a single-page document, while remaining small enough to fit in a coat pocket (5" x 6.25").
Sneak Peak Promotional Materials, 2010 and 2011. Advertisements for the Freshkills Park preview event ran for a month on the Staten Island Ferry prior to the event, and posters and postcards were distributed widely. I made the main photo illustrations and designed all other materials for the event.