Divine House Cooperative
2014-2016. The house I lived in was a cooperative: 20 of us shared a single household and the responsibilities for managing and growing as a residential community. After moving into the house, I conducted both formal and informal research on the challenges I and my housemates faced in operating as a household and as a communal group.
There were many commitments required by house membership: cooking, chores, committees, project oversight, workdays, even visioning sessions. It can be a challenge for 20 people to keep track of all of their responsibilities, to remain responsible to them, and to retain a sense of community and support with so many people and so much to do.
Tags: Research, Strategy, Programs, Community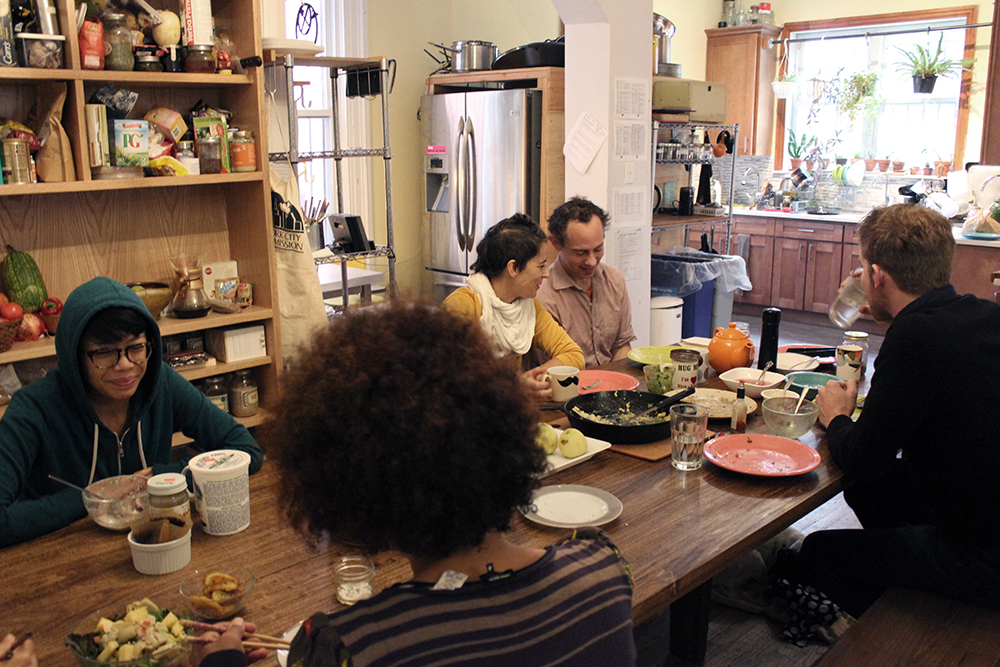 Pit Crews
The house struggled for almost two years with questions of how to hold people accountable for their house commitments. Accountability checks dragged down weekly meetings, created resentments and did not address root causes of non-participation. Housemates were feeling alienated from one another by having the only house forum be a somewhat-impersonal 20-person meeting.
I proposed that we form 5 four-person groups of housemates called Pit Crews: groups whose job is to check in and do necessary maintenance on each other's house membership. Pit crewmates could check in one-on-one with each other or as a group (say, over beers or out to dinner) about how they are feeling about the house, if there is support that one another need in the house, and if they are upholding the house commitments. Once a house member is behind in some house commitments by a requisite amount, a meeting facilitator could urge a Pit Crew to meet and, within a certain amount of time, come back with a Commitment Plan for the member in question. The Pit Crew (including the member in question) would then also be responsible for holding the member accountable for that plan. If no Commitment Plan was devised or the member was not successful in meeting the plan by a certain time, the Pit Crew could then be charged with conducting a Membership Review of the member and reporting back about its confidence in that membership, at which point the house could discuss it further.
The proposal was very well received, and we adopted the policy after a couple of months' discussion with housemates in various forums. It has been very popular thusfar.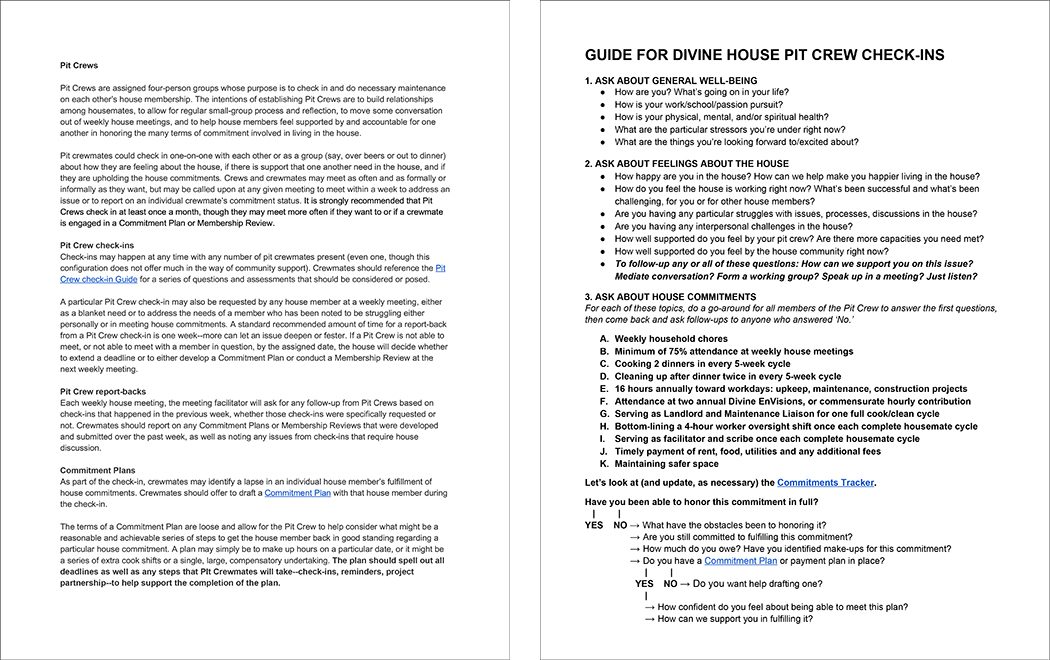 Room Rates
The bedrooms in our house vary widely in size, noise, privacy and various amenities. Room pricing had initially been spitballed, with rooms of similar size grouped in rental tiers. Two years later, various housemates voiced complaints about the prices of their rooms relative to other people's. Concern for equity prompted me to initiate a process through which we could more democratically arrive at rents for individual spaces in the house.
The first step was a house-wide audit—allowing all housemates to evaluate each bedroom along a set of common, vetted criteria. Along with their audit forms, housemates filled out a form indicating the weight they wished to give each of these criteria.

I averaged all housemates' inputs for weighted priority of criteria and used these relative weights to divide up the monthly rent proportionally, to understand how much we should be paying in total for each criterion.
I tabulated average ratings for each person's bedroom on the various criteria, and used these average ratings and the weighted priorities to calculate a rent for each bedroom based on the survey data.
I offered the house a variety of ways to interpret the survey data and to calculate rent, in order to start a conversation about how the room rates might be adjusted. After several months of group conversation and further refinement, the proposed rates were adopted.