An Equitable System for Determining Rent
2014-2016. The house I lived in was a cooperative: 20 of us shared a single household and the responsibilities for managing and growing as a residential community.
The bedrooms in the house varied widely in size, noise, privacy and various amenities. Room pricing had initially been spitballed, with rooms of similar size grouped in rental tiers. Two years later, various housemates voiced complaints about the prices of their rooms relative to other people's. Concern for equity prompted me to design a process through which we could more democratically arrive at rents for individual spaces in the house.
Details on each step of the process at right, in the captions.
The process began with a couple of months of discussion around our existing approaches to determining rent on our online discussion and decision-making platform.
The discussion helped to identify primary criteria by which housemates were interested in evaluating and comparing bedrooms. Using these criteria, I designed a survey for a house-wide audit—allowing all housemates to evaluate each bedroom along a set of common, vetted criteria. On the day of the audit, along with their audit forms, housemates filled out a form indicating the weight they wished to give each of these criteria.
I averaged all housemates' inputs for weighted priority of criteria and used these relative weights to divide up the monthly rent proportionally, to understand how much we should be paying in total for each criterion.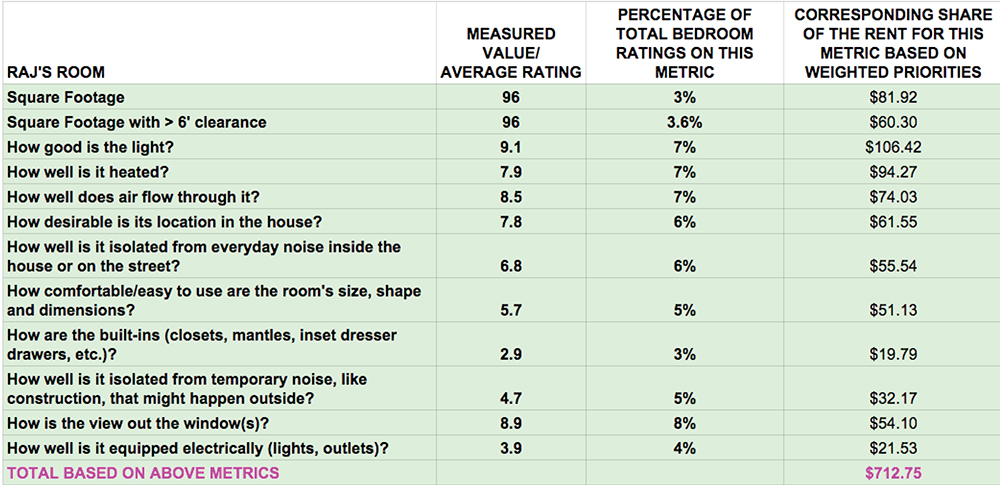 I tabulated average ratings for each person's bedroom on the various criteria, and used these average ratings and the weighted priorities to calculate a rent for each bedroom based on the survey data.
Working from this data, I facilitated a committee of interested housemates in small group meetings, exploring a variety of ways to interpret the survey data and to calculate rent. We brought our findings to the house, walking through the data over several house meetings and soliciting feedback on our interpretations. Considering this feedback, we framed an initial proposal for rents that was accepted by all but one housemate. By several months later, the committee worked out a solution to address the initial objection, and through another facilitated house meeting, the proposed rates were adopted.