Shared Household Accountability Systems
2014-2016. The house I lived in was a cooperative: 20 of us shared a single household and the responsibilities for managing and growing as a residential community.
There were many commitments required by house membership: cooking, chores, committees, project oversight, workdays, even visioning sessions. It can be a challenge for 20 people to keep track of all of their responsibilities, to remain responsible to them, and to retain a sense of community and support with so many people and so much to do.
Research, Phase 1
Research began during an all-day group check-in during which all housemates had the opportunity to voice their concerns about house commitments. With so many commitments and irregular tracking or accountability on them, some housemates felt that they were always behind, and some speculated that others weren't pulling their weight. And in general, people did not feel supported in their house participation, whether they were on top of commitments or not—there wasn't enough time in large group meetings to affirm and support everyone.
To help cultivate a greater sense of clarity on what we were actually doing, I first created a digital tracking document for house commitments where each commitment bottom-liner or individual housemate could track completion of commitments. The document, itself, allowed for some degree of self-accountability for those who reviewed the regularly updated data, but not everyone did.
Implementation Case Study: Pit Crews
To increase the intimacy and feelings of support housemates could receive from each other in the context of such a large group, I proposed that we form 5 four-person groups of housemates called Pit Crews: groups whose job is to check in and do necessary maintenance on each other's house membership. Pit crewmates could check in one-on-one with each other or as a group (say, over beers or out to dinner) about how they are feeling about the house, if there is support that one another need in the house, and if they are upholding the house commitments. Once a house member is behind in some house commitments by a requisite amount, a meeting facilitator could urge a Pit Crew to meet and, within a certain amount of time, come back with a Commitment Plan for the member in question. The Pit Crew (including the member in question) would then also be responsible for holding the member accountable for that plan. If no Commitment Plan was devised or the member was not successful in meeting the plan by a certain time, the Pit Crew could then be charged with conducting a Membership Review of the member and reporting back about its confidence in that membership, at which point the house could discuss it further.
The proposal was very well received, and we adopted the policy after a couple of months' discussion with housemates in various forums.
Research, Phase 2
After collecting ten months of data and trends in house commitment completion and Pit Crew operation, we held a series of workshops to assess how housemates felt about each commitment, its level and type of accountability, and the idea of accountability around commitments overall. Group temperature checks, feeedback sessions and individual surveys provided input on which to base some proposals for action or adjustment on each of the house commitments and its type and degree of accountability, now based in the reality-based input of all house members.
Implementation Case Study: Cook/Clean Sign-up Calendar
The calendar through which we signed up for our two regular cook and clean shifts had been a page from a spreadsheet printed every five weeks and taped to the wall. It was hard to read and harder to tell whether everyone was participating—an empty dinner table was often the only way to note a gap in participation.
In the workshops, housemates resoundingly affirmed a desire to continue dining together four times a week. They also expressed a desire to be reminded to sign up without feeling punished or policed for a lapse.
I designed a visual calendar that balances clarity and accountability with celebration of housemates and their contributions. More details on this project in the captions at right.
Implementation Case Study: Chore Board
Our chore accountability system had been a verbal report on chores we completed during each week's house meeting. Very few housemates reported liking this system, finding it to drag out the meeting, only hold those accountable who showed up, and lack the tangibility to allow no medium-term tracking for completion of chores or makeups.
I designed a chore board which allowed for self-monitored accountability around chores; a clear and judgment-neutral venue for feedback; and more flexibility in accounting for different ways of contributing to the house that might not be otherwise recognized. More details on this project in the captions at right.
Tags: Research, Strategy, Graphic Design, Programs, Community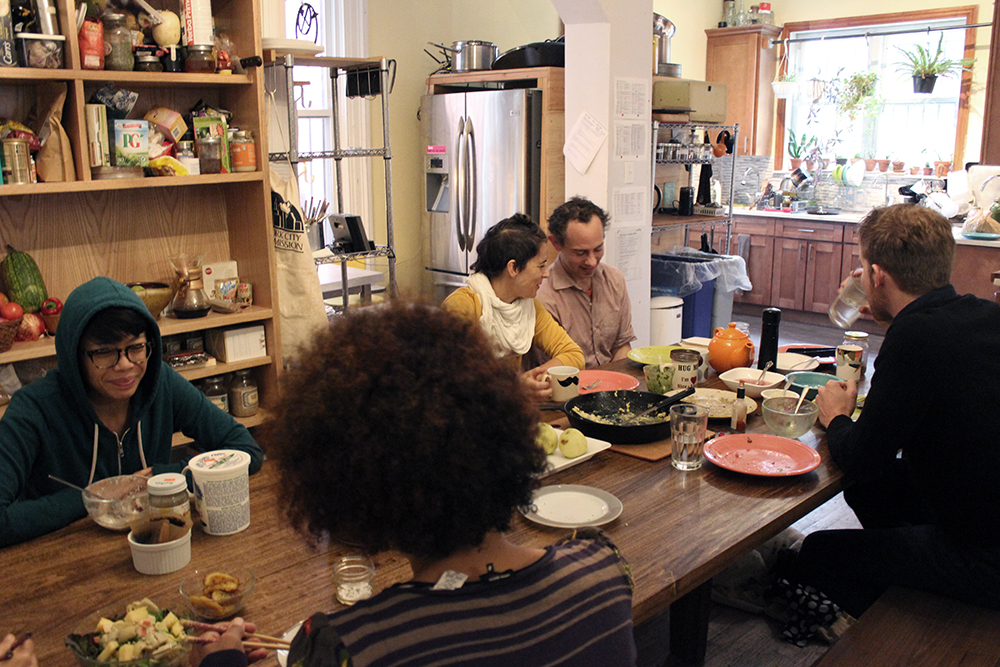 The section of the house manual I wrote on Pit Crews; a loose check-in guide for Pit Crew meet-ups.
An early concept for the Cook/Clean Calendar.
A second iteration of the Cook/Clean calendar concept, which gained enough favor to move toward implementation.
The installed calendar strikes a balance between holding housemates accountable and celebrating their contributions and their lives—their artful portraits are featured in the magnetic photo frames during their birthday months. When a housemate has signed up for their shifts in a given cycle, they flip over the magnets beside their name label from red to green (the name label is itself a whiteboard magnet, to accommodate a shifting house population). The vibrant visual indicator helps remind housemates to sign up and makes them more accountable to the rest of the house. At the start of the next five week cycle, the magnets are reset, and those who did not sign up the last time carry no debt into the future.
I mocked up a chore board, to mirror the cook/clean board, which allowed for transparent but self-monitored accountability around chores and makeups; a clear and judgment-neutral venue for feedback around particular chores; and more flexibility in accounting for different ways of contributing to the house that might not be otherwise recognized.
After soliciting input via conversation and online discussion, I revised the design to feature more clearly what chores each housemate had actually committed to doing.
We worked with a paper prototype of the final board for 2 months, to assess its effectiveness and viability.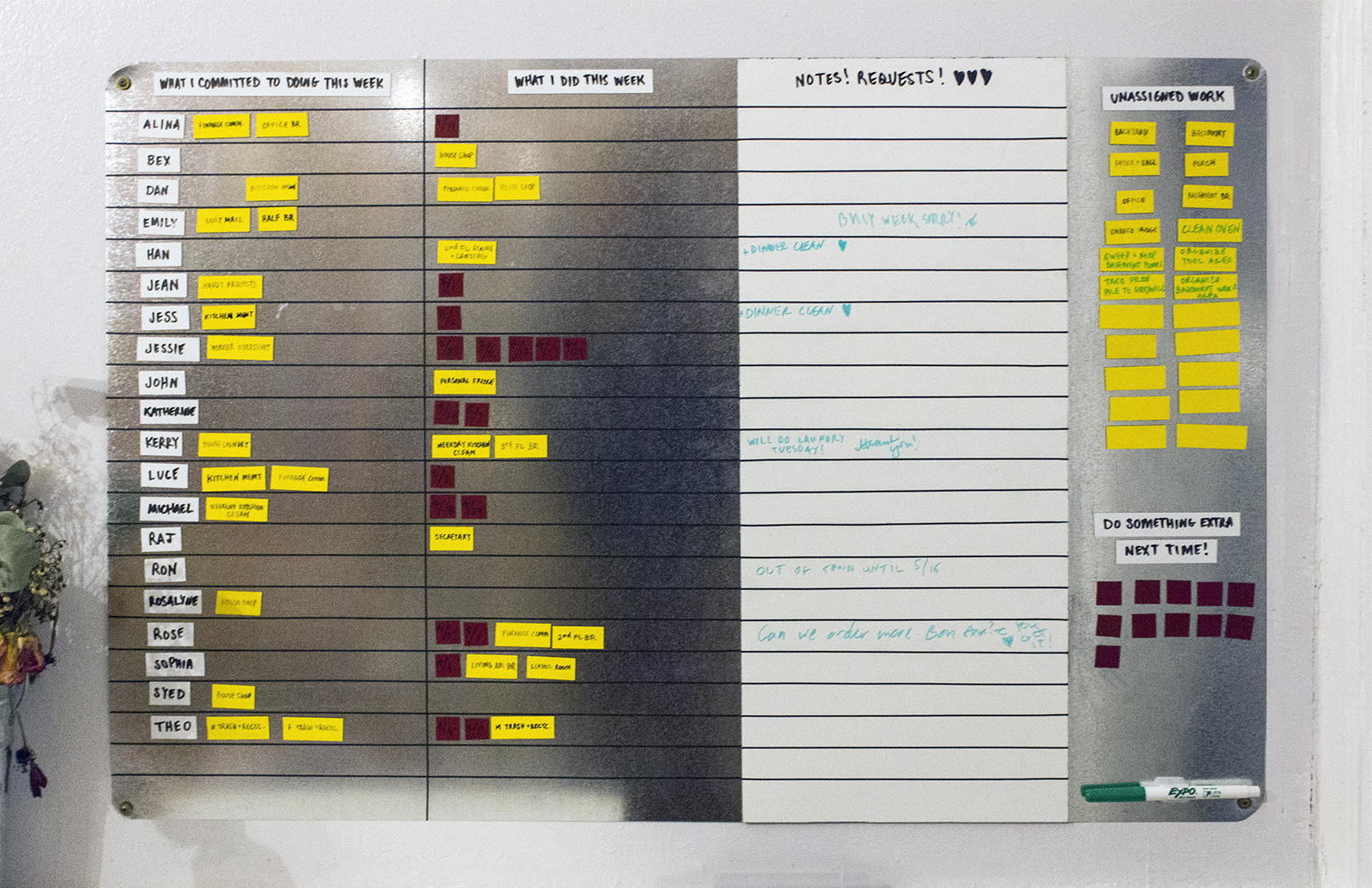 The final, installed chore board.